2016 Mazda6 v. 2016 Toyota Camry

Those seeking out a midsize sedan know how tough it is to make the decision on which on to buy. Two of the most popular models of midsize sedans are the 2016 Mazda6 and the 2016 Toyota Camry. When you're in the market for a midsize sedan, the options can be overwhelming. That is why your friends here at Preston Mazda are here to help you along the way. The Mazda6 and the Toyota Camry are similar in a number of ways, but the small differences can separate the elite from the average. We'll help you find which of these models fit the needs of you and your family.
The first thing that many car buyers consider during their journey is the price of their vehicle. When it comes to MSRP, the 2016 Mazda6 has the advantage by nearly $2,000. Imagine all the fun you could have with an extra $2,000. The Mazda6 also has the advantage when it comes to horsepower. We're talking about a whopping 184 horsepower under the hood, as opposed to the 178 horsepower of the Camry. Where the Camry does hold the lead though is interior room, but the Mazda6 takes the cake when it comes to handling and driveability.
If you are looking for superior fuel economy in your midsize sedan, look no further than the Mazda6. When driving a 2016 Mazda6, you'll be granted up to 26 MPG in the city and 38 MPG on the highway. The Toyota Camry on the other hand only gets 35 MPG while driving on the highway. When it comes to performance and efficiency, the 2016 Mazda6 has the clear-cut advantage over the Toyota Camry. This is why those seeking out the midsize sedan they want at a price they can afford should make their way to Preston Mazda and grab a 2016 Mazda6.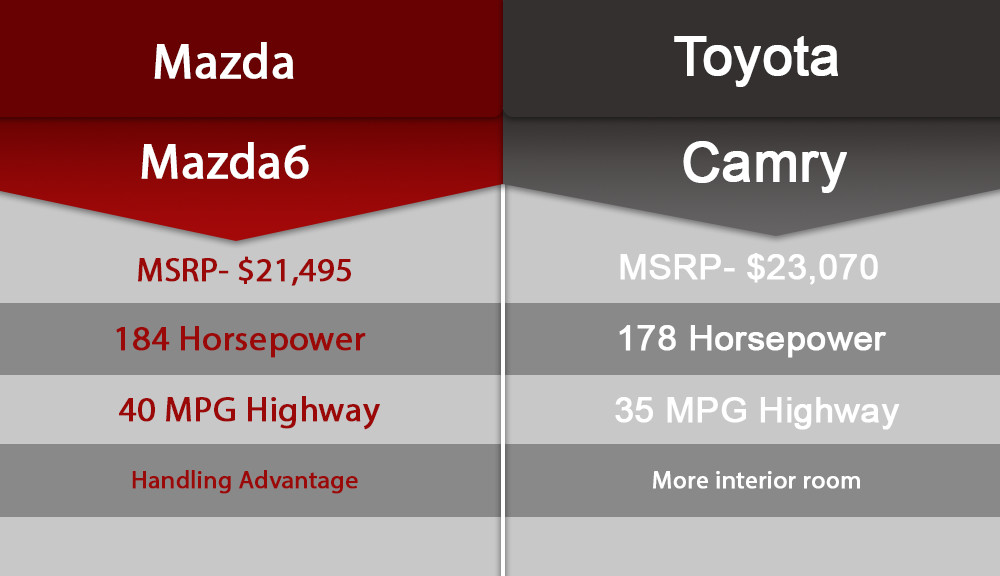 Sales Hours
877-873-3591
| | |
| --- | --- |
| Monday | 8:30 am - 8:00 pm |
| Tuesday | 8:30 am - 8:00 pm |
| Wednesday | 8:30 am - 8:00 pm |
| Thursday | 8:30 am - 8:00 pm |
| Friday | 8:30 am - 8:00 pm |
| Saturday | 8:30 am - 6:00 pm |
| Sunday | Closed |