2017 Mazda CX-9
2017 Mazda CX-9 v. 2017 Subaru Outback

If you are in the market for the kind of vehicle that can fit your whole family comfortably, then you are probably having some trouble picking out which SUV is optimal for you guys. There are a ton of SUV options out there for you to pick from, the 2017 Mazda CX-9 and the 2017 Subaru Outback being two of the most popular. Those shopping around for an SUV have almost certainly considered at least of one of these two vehicles. Your friends here at Preston Mazda are here to help you find the SUV that perfectly fits the needs of you and your family. Help us figure out which vehicle is better for you, the 2017 Mazda CX-9 or the 2017 Subaru Outback.
Those looking for power should roll with the CX-9 instead of the Outback. The 2.5L 4-cylinder Turbo 6A engine inside of the CX-9 gets up to 227 horsepower at 5000 RPM, while the Outback tops out at 175 horsepower when the engine is working at 5800 RPM. If you are seeking out torque from your SUV, the CX-9 holds the advantage as well. It takes the engine of the Outback 4000 RPM to conjure up 174 ft-lbs. of torque, while it only takes 2000 RPM to get the torque of the CX-9 up to 310 ft-lbs. When it comes to fuel capacity, the CX-9 holds the advantage by a half-gallon, as it holds 19 gallons as opposed to the 18.5 gallons the Outback holds.
The maximum towing capacity for the CX-9 is 3500 lbs., while the Outback tops out at 2700 lbs. That is an 800 lb. difference when it comes to towing capacity, which can make a world of difference. The wider wheel base of the CX-9 also allows for better handling, as it is 115.3" wide, instead of 108.1" wide like the Outback. The CX-9 also has a slightly higher ground clearance, making it easier for you to get where you need to go. A keyless ignition also comes standard in the CX-9, while all versions of the Outback don't provide this feature. Come into Preston Mazda today and get that SUV in Preston that you and your family need. The 2017 CX-9 has earned the highest score IIHS provides, Top Safety Pick+! In addition to this award, this second-generation CX-9 has been awarded a 2017 Car and Driver 10Best Trucks and SUVs, and recently earned spots in the prestigious Ward's Automotive's 10 Best Interiors list and 10 Best Engines list for 2017.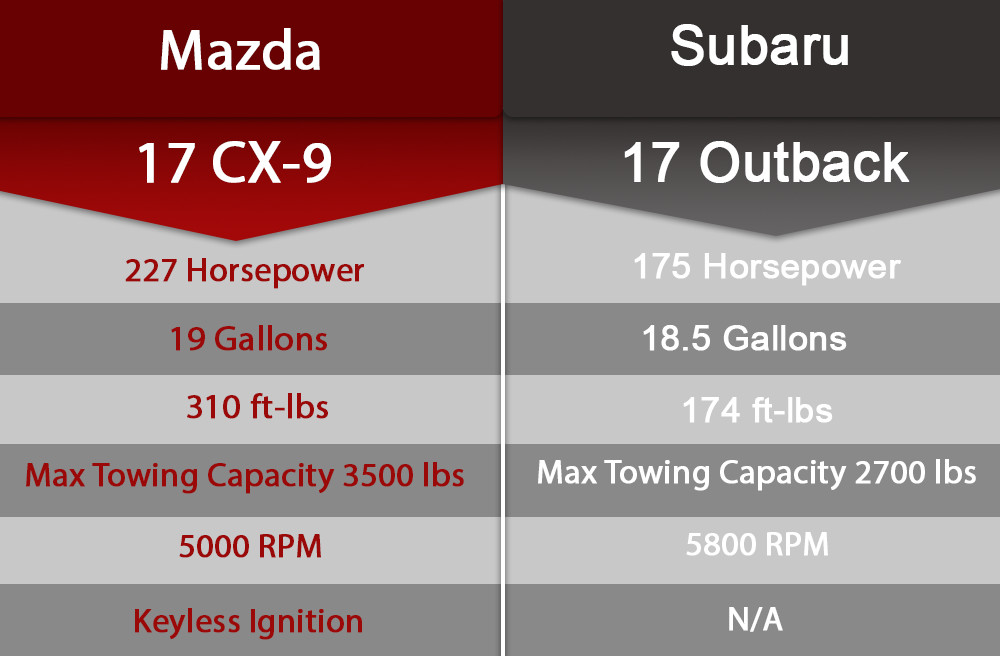 Awards
10 Best Car Interiors Under 50k
(2017 Model)
- Autotrader
---
10 Best Engines
(2017 Model)
- Wards Auto
---
10 Best Interiors
(2017 Model)
- Wards Auto
---
10Best Trucks and SUVs
(2017 Model)
- Car And Driver
---
All-Star: Contender
(2017 Model)
- Automobile Magazine
---
Best Buy: Midsize SUV Finalist
(2017 Model)
- Kelley Blue Book
---
Best Car Brand
(2017 Model)
- US News
---
Best Vehicles By Class: Midsize SUVs
(2017 Model)
- GreenerCars.org
---
Brand Image Awards: Best Styling Brand
(2017 Model)
- Kelley Blue Book
---
Driver's Choice Award: Best Large Utility
(2017 Model)
- MotorWeek
---
Editors Choice Awards: SUVs and Crossovers
(2017 Model)
- Car And Driver
---
Green SUV of the Year: Finalist
(2017 Model)
- Green Car Journal
---
Lowest Ownership Costs - Popular Brand
(2017 Model)
- Intellichoice
---
Must Test Drive
(2017 Model)
- Autotrader
---
North American Utility Vehicle of the Year Finalist
(2017 Model)
- North American Car of the Year
---
Readers Choice: Utility Vehicle of the Year
(2017 Model)
- AutoGuide.com
---
SUV of the Year: Finalist
(2017 Model)
- Motor Trend
---
---
Top Recommended Crossovers/SUVs
(2017 Model)
- Edmunds
---
Total Quality Impact Winner: Mid-Size CUV Segment
(2017 Model)
- Strategic Vision
---
World Car Design of the Year: Nominee
(2017 Model)
- World Car of the Year
---
World Car of the Year Finalist
(2017 Model)
- World Car of the Year
---